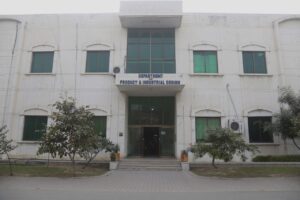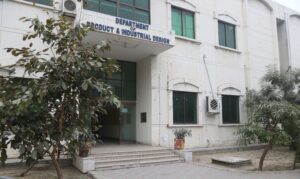 Department of Product & Industrial Design
The Department of Product and Industrial Design was established in 2006 under the umbrella of Faculty of Architecture and Planning, with the aim to foster newly emerging challenges in the field of design. Since then, the department is contributing to various design-related areas such as graphics, interior, architecture, and ceramics. The department achieved another milestone in 2016 by launching the postgraduate studies in Product and Industrial Design. During a journey of more than one decade, our alumni have acknowledged their roles as team players in various top-notch organizations and industries such as UX/UI design, Master tiles, Packages, TEVTA and a few international organizations too. Our graduates are also serving various academic organizations and working as freelancers for various business ideas and start-ups.
What Is Product And Industrial Design?
Product design deals with the idea generation, concept development, testing and manufacturing or implementation of a physical object or service.
Product Designers conceptualize and evaluate ideas, making them tangible through products in a more systematic approach. The role of a product designer encompasses many characteristics of the marketing manager, product manager, industrial designer and design engineer.
Product designers are equipped with the skills needed to bring products from conception to market. They should have the ability to manage design projects, and subcontract areas to other sectors of the design industry. Product designers are strategic assets to companies that need to maintain a competitive edge in innovation.
Industrial design is an applied art whereby the aesthetics and usability of products may be improved. Design aspects specified by the designer may include the overall shape of the object, the location of details with respect to one another, color, texture, sounds and aspects concerning the use of the product ergonomics. Often, through the application of design, a product's appeal to the consumer is greatly improved.
Role of Product and Industrial Designer is to create and execute design solutions towards problems of engineering, usability, marketing, brand development and sales. It emphasis on the professional service of creating and developing concepts and specifications that optimize the function, value and appearance of products and systems for the mutual benefit of both user and manufacturer.
Broadly speaking, the role of the product designer combines art, science and technology to create tangible three-dimensional goods.
Product and Industrial Design involves the research and design of the whole range of consumer and capital products. These are as diverse as telephones and transportation, kitchen appliances exhibition systems. Ideally, the industrial designer works as part of a multidisciplinary team involving engineering, production and, marketing.
Who Is Likely To Choose Product And Industrial Design?
The program is likely to be of interest to students who:
Have abilities, such as drawing and making that support design activity, as well as capability to work with technical information.

Have an interest in the way products and systems relate to people and societies.

Are interested in technology but want to develop their design creativity and wish to be involved in the whole product development process.

Are considering marketing but wish to develop new products as part of a marketing strategy

Seeking flexibility in their career path
PID Vision
Become a pioneer department in the field of Product & Industrial Design in Pakistan, to contribute towards the betterment of overall economic situation by introducing design interventions.
PID Mission Statement
The Department of Product and Industrial Design intends to bring Pakistan on the same level of production of techno-art products as being done in other universities of the world. To play a leading role as a University of Engineering and Technology in teaching, research, innovation, and commercialization that is internationally relevant and has a direct bearing on national industrial, technological, and socio-economic development.
The mission of Product and Industrial Design is to equipped the prospective design students with an excellent career in the design field giving high value to creative & practical high skills as well as the tools to lead the innovation in a fast changing world.